You might have heard someone introduce him or herself as a public adjuster, but you had no clue about such an occupation. So, who is a public adjuster and what does the job entail? Public adjusters are insurance professionals licensed by the state to manage aspects of insurance claims for claimants, the insured or policyholders. These professionals "adjust" or "negotiate" insurance claims. Regardless of whether you own condominium complexes, a homeowner or an entrepreneur, public adjusters will be there to save the day.
Insurance companies provide their clients with an adjuster for free. These adjusters are known as staff adjusters. Staff adjusters evaluate your loss and determine how much you should be compensated. On the other hand, public adjusters have no relationship with your insurer. They work on your behalf for a fee. Public adjusters are usually paid around 15% of your insurance settlement for their services.
As is the norm, staff adjusters, like any other employees, work with the interest of their employer at heart. Their biggest concern is minimizing costs and maximizing profits for their firm. As such, they will do almost anything to make sure the insurance company does not make losses. One of the ways in which they ensure the insurance company makes a profit is by compensating policyholders within what many consider as reasonable but "slightly unfavorable" limits. They do not want to overpay policyholders the rightful compensation, and at the same time, they want to retain as many policyholders as possible to keep their insurance firm afloat. In short, staff adjusters' financial allegiance belongs to their employers. They have to do everything for the interest of insurance firms.
Role of Public Adjusters
In contrast, public adjusters do the exact opposite. They work for policyholders instead of the insurance firms. Their main focus is on getting the best settlement for their clients. Think of it as a tag of war within the insurance industry. While staff adjusters work to settle policyholders' claims without 'hurting' or taking a toll in the insurance firm's finances, public adjusters are tirelessly pulling the rope to the policyholder's side. While staff adjusters are looking for ways to 'balance' the scale, public adjusters ensure that there is a fairground and rules are played by so that policyholders get their rightfully deserved settlement.
Public adjusters have a legal right to advise and represent policyholders. They assist them to make claims to their insurance company. Most people who have profited from the services of public adjusters perceive them as a beacon of hope during times of crisis. It's not unusual to come across people who take advantage of you during your weakest moments. However, public adjusters shelter you from such trickery by offering legitimate service that will help you get through the dark times without suffering any losses.
Public adjusters have technical expertise and they have the ability to interpret even the most ambiguous insurance policy. Their duty is to make sure policyholders receive maximum compensation. One of the advantages of seeking the services of a public adjuster is that you never have to pay them a single dime until they finish their obligations of making sure you get a fair and reasonable claim settlement. They get their paycheck after your insurance company compensates you. Public adjusters take care of your claims needs as if they are taking care of their delicate infant. Their professionalism and precision will be evident throughout the claims process.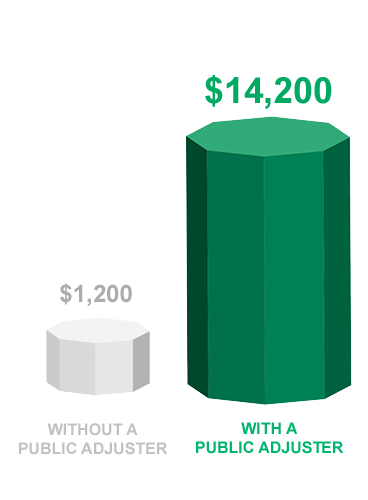 When to Consult a Public Adjuster
After a policyholder suffers a loss, he or she has a duty to inform his insurance company. After doing so, they send a staff adjuster to evaluate your loss. Some of these staff adjusters have no soul. They will look you straight in the eye, figure out your expectations, and crush your dreams of getting a reasonable claim settlement. Others will not let you know what's going on while others will spew the information in a way that may make your tongue go on leave. When such a thing happens, know that it's time to seek the services of a public adjuster.
Public adjusters are best suited to represent policyholders because most of them have vast experience in the insurance industry. In fact, a significant number of public adjuster worked with insurance companies as staff adjusters at a point in their life. As you know, experience is the best teacher; no one knows the insurance industry loopholes as they do.
Many people, especially those who are not able to capable of pursuing the insurance industry due to age, education, or physical impairment seek the services of a public adjuster to guide them through the claims process. Statistics show that seeking the help of an insurance adjuster saves your time. Policyholders who are represented by public adjusters have their settlement claim paid at a faster rate than those who do not.
What are the advantages of using an adjuster's help?
Consulting or working with a public adjuster during a claims process is the most prudent decision a policyholder can ever make. Consulting these professionals saves you time which would otherwise be used doing more productive activities. What's more, public adjusters always have a 90% or more chance of winning a favorable settlements for their policyholders. With that said, let's go through some other benefits of seeking the services of public adjusters.
Higher Payout
Statistics show that policyholders who seek the services of public adjusters have an advantage over their counterparts who don't when it comes to claims settlements payout. A study conducted in Florida showed that these noble professionals negotiate up to a 746% larger settlement claims for homeowner insurance property and commercial business loss claims than the insurance firm would have paid.
Public Adjusters understand Insurance Policy Language
Public adjusters are in their position because of hundreds of hours of sacrifice and commitment to their studies. They know the ins and outs of the insurance industry and have the perfect experience going through the fine print. Competent public adjusters continually update their studies to keep up with the ever-changing insurance industry trends. Doing so makes them experts or the most qualified people to handle claim settlements.
Little Risk Involved
Hiring a public adjuster involves little or no risk at all. To start with, public adjusters are professionals certified by the state. You can look them up to verify their qualification to avoid dealing with quacks. You can also ask a public adjuster to provide his license to avoid any mishap. Another benefit of using a public adjuster is that you will enter into a contingency fee contract meaning that you do not have to pay them unless you are paid.
Public Adjusters Help Protect Policy Holder's Rights
Public adjusters understand the expectations of insurance firms. As such, they give policyholders the advantage of valuing and documenting their claims. If the policyholder's claim is denied, they have the advantage of having a reputable witness in case a more aggressive action is taken.
Public Adjusters are Claims Experts 
The work of public adjusters is to prepare detailed cost estimates and evaluate the scope and extent of loss suffered by a policyholder. At times, they make use of other experts experienced in toxicology, remediation or even construction engineers to build their case. Furthermore, public adjusters use the same software as staff adjuster meaning that they can never go wrong while calculating for estimates. They are familiar with your policy's terms which makes them the best people to determine uncovered and covered items in your insurance contract.
Public Adjusters Represent Policyholders
Public adjusters have the best interest for policyholders. Unlike staff adjusters, they do not have the interest of insurance firms in mind. The main reason why public adjusters put the needs of policyholders before anything else is that every successful payout to a policyholder builds their reputation. The second reason is that they take the job personally because the higher the payout by an insurance company, the more money they will get from the policyholder.
Public Adjuster's Devotion
Public adjusters are committed to their client's success. They take their client's win as a personal victory. One of the reasons they do this is because they know that it affects their resume. Public adjusters fight tooth and nail to ensure that their client gets a fair claim settlement. It is for this reason that anyone who has suffered an insured loss should seek the services of a public adjuster; to ensure that their victory is guaranteed.
Conclusion
Regardless of what loss you have suffered, as long as you are a policyholder, public adjusters will see to it that you get the compensation you deserve in the fastest way possible. Public adjusters are professionals who ensure that you get what is rightfully yours from your insurance firm. If you or your business have suffered an insurable loss, public adjusters will be there for you when the sunny days are replaced by the grey clouds. Get in touch with a trusted public adjuster to get back on your feet as soon as possible.